Dr. Rajesh H. Panchal has been practicing optometry in Milton since 2006. He graduated from the University of Toronto in 1994 with an Honors degree specializing in Microbiology. He then went on to complete his Doctor of Optometry degree at The New England College of Optometry in 1999 in Boston, USA.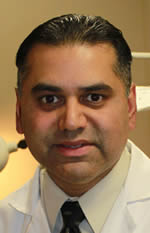 Dr. Panchal received membership in the Beta Sigma Kappa International Honor Optometric Society, which is awarded to students with exceptional achievement in every year for the four years of study. Dr. Panchal took pride in helping other students, assisting both his classmates and tutoring students in years below him. He has had extensive internships in both Canada and the United States. One of his most memorable experiences was providing eye care for the American Veterans at the White River Junction Hospital in Vermont.
Dr. Panchal is board certified in treatment and management of ocular disease. He is fully trained in prescribing therapeutics for the eye. Dr. Panchal is licenced and qualified to perform pre- and post-operative care for patients with laser eye surgery. He enjoys all aspects of primary eye care. He especially enjoys examining children of all ages and playing games with them to test their vision.
Dr. Panchal is an active member of both Ontario and Canadian Optometric Associations. He regularly attends continuing education courses to keep up-to-date with the latest trends and techniques in optometry.
Dr. Panchal is married with three children. He lives in Milton, Ontario and loves spending leisure time with his family, and playing sports. His caring, down-to-earth personality makes him very approachable. His strong belief in the importance of eye care can be summed up in a short phrase:
Your Vision Is Your Future.Dr. Rajesh H Panchal